When you need a bit of extra heat during the cold winter night and your home is not well insulated, you start to consider the best electric blanket for a comfortable sleep. 
An electric blanket is the best thing during the wintertime to get warmth in bed before going to sleep so you do not need to crawl into an unwarmed bed on a cold night. The best electric blanket maintains an even temperature. They are lightweight, comfortable and safe to use.
You can use an electric blanket every day as they are efficient and thinner.  There are many models of electric blankets available in the market but make sure you buy the reliable and best electric blanket which gives you the best thermal effects. 
However, we leave you several tips so that you know what things to take into account when making the purchase.
Are electric blankets safe to use?
So many people have safety concerns regarding the electric blanket but the electric blankets are perfectly safe to use if they are of a very good brand and quality.
There are also some important things you need to consider before you buy one.to make sure you and your family stay safe 
Do not wet the blanket or if it gets wet avoid using that time.

Avoid using the blanket if it has creases and a folding line on it. 

Avoid using the pins on the blanket. Sometimes people use pins to hold the blanket on the bed. 

If you are using a hot water bottle do not use an electric blanket. It may cause trouble. 
Electric blankets are available in two types which are basic – heated mattress pads which you can place on the top of the mattress or beneath the sheets. You can choose according to your personal preference. 
What should you take into account before buying an electric blanket?
1) The size and weight
Depending on your choice what you are actually looking for.  if you need a single, queen or king-size electric blanket. If it is to heat the bed, take into account its size, that is, if it is double or single.
2) The material
Best electric blankets are made of wool or polyester.
Wool: they insulate heat better and have a good moisture absorption capacity. They are more expensive and maintenance is a bit more work.
Polyester: they are light and soft to the touch. They are more affordable and most are machine washable. Its heat insulation capacity is lower. So choose a model that is comfortable, breathable, and that distributes heat evenly.
3) The functions
Electric blankets are becoming more and more sophisticated and include very practical features that make them easy to use.
In addition to the automatic shutdown, there are models with remote control, timer, temperature regulation, and double thermostat, to independently control each side of a double bed.  
READ NEXT: The Best Heaters | Best Outdoor Fires
The Best Electric Blankets NZ
1. Sunbeam: Wool Fleece Electric Blanket
This Sunbeam-Sleep Perfect King Bed Wool Fleece Heated Blanket is available in 3 size queen, king and in super king size.  when it comes to electric blankets you cannot go past a brand that is synonymous with blankets. 
Sleep perfect is a technology that senses changes in the room and body temperature to automatically adjust the temperature of the blanket to maintain your selected heat setting that is available in five fully fitted sizes including single king, single double queen and king. 
These blankets are packed with features such as a 50cm fitted skirt depth so that the blanket fits nice and is snug around your bed.
It is easy to use heat settings fast 5-minute heat-up time cosy feet providing extra warmth at your feet and all-night comfort. You can easily select from the temperature settings from 1–5 during sleep or before going to bed. It comes with an automatic sense to adjust the temperature during the nighttime. 
This electric blanket has a digital timer set for 1 or 9 hours. 
They have detachable controls which means the blanket is completely machine washable and remember for peace of mind these blankets can have a full three-year manufacturer replacement warranty so there you have it what a great product packed with great features there's a sunbeam sleep perfect blanket to suit everybody in the house. 
Pros :
Detachable controls in a blanket 

It has waterproof elements that make this blanket safe to wash.

Automatic  blanket temperature adjustment feature

 Quick and very fast heating 
Cons :
High price and expensive 

You may need a power cord extension to plug it in as the power cord is not that long.
2. Breville Body Zone Electric Blanket
Breville Body Zone Connect Quilted Fitted Heated Blanket King is Very warm and amazingly soft and perfect for most king size mattresses. This is an antibacterial treated polyester heated blanket. 
It comes with Dual-zone heating technology and 6 heat settings which means you can select the heat settings for your upper and lower body separately. It has a fully fitted 45cm depth skirt and dimensions 200cm x 178cm.
This blanket also has a Body Zone Connect app so you can connect and manage your blanket settings with your smartphone through WiFi and the internet. It has an auto-off safety timer that is set up to 1 to 9 hours. 
This electric blanket has a soft removable quilted cotton cover. This cover is very simple and easy to remove and refit. This electric blanket has a safety overheat protection feature and it automatically switches off when it senses overheating which is great when especially used for sleep time. 
Pros : 
It has body zone heat technology.

Easily can wash in the Washing machine. superior quality materials.

Durability tested blanket and had dual removable controls for storage and washing. 
Cons: 
Can not suit small size mattresses. 
3. Goldair Fleecy Topper Electric Blanket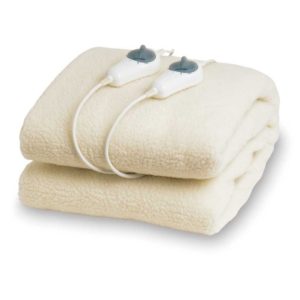 This  Goldair king Fleecy topper electric blanket has a fleece to give you ultimate warmth and comfort during night sleep. This blanket is Available 3 size single, queen and king but a good suit for king size single bed but great for personal heating.
This blanket has 3 heating settings so you can select the heating temperature as per your comfort for sleep. It has detachable controls and you can easily fit it into your king mattress as this blanket is a fully fitted skirt. 
The controller features 3 heat settings for perfect night sleep. This King size model comes with 2 controllers that operate individual sides of the blanket, so no more compromise. Choose the level that works for you.
Pros :
Easy to wash in the machine

Removable controller

Safe and overheat protection
Cons: 
A little heavier as compared to another electric blanket
4. TSB Living Electric Blanket
TSB Living Electric Blanket With Mattress Protector – Queen electric blanket is available in two sizes queen and single.  With this amazing electric blanket, you can enjoy a sound sleep every cold night. This electric blanket is available in Single, Double Queen and in King sizes.
This is a comfortable and fully fitted electric blanket that guarantees a delightfully cosy bedtime for you. This cosy blanket comes with a zip-off and removable mattress cover. It comes with a PVC storage bag. 
This has a LED display controller and 9 different temperature settings, so you can set up the temperature according to your comfort. 
This electric blanket is 100% polyester material and can work from 1-9 and 12 hours if you are using this blanket overnight it will automatically turn off or you can set the timer and prevent overheating. 
This blanket comes with an easy fit skirt to keep it in place and easy to maintain. This has a detachable controller which makes it easy to be machine washed. 
Pros :
This electric blanket is hand washed or washing machine washable.

Overheating safety guard system and detachable controllers.

It has 9 levels of temperature settings and a timer for up to 12 hours. 
Cons :
This electric blanket is heavier than the other blankets 
5. Sheffield Electric Blanket
This Sheffield Electric Blanket – is available on the market in Queen size and single size. This electric blanket is the perfect choice to keep you warm on winter nights. This comfortable and user-friendly queen size electric blanket is great for the living room or guest room. 
This Sheffield electric blanket has 3 level temperature control settings and three heat settings that allow you to adjust the heat in your room for the desired comfort and warmth. This blanket is 100% polyester fabric and has Convenient tie tabs. It gives you the great warmth which you needed in winter. 
This blanket has an overheat protection system which works as a safety guard during the night sleep and provides additional peace of mind. The size of this cosy electric is 155x1520mm. 
Pros : 
This Sheffield electric blanket is Affordable and very comfortable.

Overheating protection

Available in 3 temperature control settings.
Cons :