If you're looking for the best water blaster, then you've come to the right place. Here we will discuss how to find a good one and what features are important.
A water blaster is an easy way of washing away dirt and stains from various surfaces like cars and sidewalks. It uses pressurized water mixed with detergent or chemicals that loosen up dirt and grime. so, it's easier to wipe off. This is different from using soap which can be tough on certain surfaces like plastics, rubber tires and on leather. 
Whether it's removing stubborn grease from your BBQ or blasting away dirt off cars – the best blasters are hard at work solving problems.
The best water blast is the one that best suits your needs. There are many different types of blasts, and they have a number of uses depending on what you need to do. In this blog post, we will discuss how to find the best water blast for your needs.
How to choose the Best Water Blaster for you
What type of Water Blaster do you need?
There are two types of water blasters on the market: Electric and Petrol powered. While they both have their benefits, we're going to discuss them below.
Electric Water Blaster
Electric water blasters are a convenient and easy way to blast away at those tough stains. They have low, mid-range pressure that makes them perfect for home use or cleaning cars. But some high PSI pressure models can be used for commercial purposes like the Karcher K7 Premium water blaster.
The other thing,  an electric water blaster is a great tool for any household, but it can be limiting when you need to reach high or far. The cord can also cause problems if not used carefully and low-grade extension cords can have an effect on performance.
One of the advantages of using an electric water blaster is that they don't emit any pungent smoke and are less noisy as compared to petrol models.
Petrol Water Blaster
Petrol water blasters are the most powerful options for pressure washing. It is perfect on larger-scale jobs, such as offices or construction areas that need large quantities of deep cleanings with good results at higher speeds.
The gas water blaster is powerful and efficient. It can reach areas that electric water blasters cannot, but their weight makes them difficult to carry around. 
What do you want to use your Water Blaster for?
Pressure washers can be put into three categories which depend on their maximum pressure rating:
Entry-level cleaners are those with the lowest maximum pressure of 100 bars of force.  These models can clean small items such as bicycles and garden furniture but wouldn't be ideal for hard jobs like washing cars or house cleaning. 
Pressure washers with a maximum of 120 bars or more are best for cleaning things like fencing, patios and dirty cars. This type of machine has more than enough power that will easily get any surface spotless in no time at all. 
What important accessories should you have for different cleaning tasks? 
When shopping for a pressure washer, it's easy to get confused by the variety of options and packages. Before making a decision, take a second look at what toolset you'll receive with your purchase.
If the hose is too short, perhaps you'll need an extension wand. Maybe you can get by with a standard brush and nozzles for certain tasks such as cleaning patios or cars which are better suited to specific tools than others.
A few models may even come with special multi-purpose nozzles, designed to deliver different spray patterns for all sorts of jobs. This is a great way of saving money because you won't have to carry around the whole kit. You can usually buy a specific accessory later on.
What other features should you consider?
The water flow rate is the important thing. It may not be what you think it is, but the flow rate of water through your washer says a lot about its cleaning power. An average figure for this specification would be 6 litres per minute (l/m). So for quicker cleaning, you may need more water. 
Other important things when buying a car wash are the length of the main cable and hose. A shorter hose can make it harder to get where you need, it or around the backside of the vehicle for cleaning, so having an extension reel is helpful with this problem as well. 
When you need an extension lead, it's best if the cable has a minimum of 13 amps and is designed for outdoor use. However, water can damage these types of cords so make sure not to get them wet. 
How hazardous are water blasters?
Pressure washers can be a dangerous and messy job. You need to wear protective goggles and proper footwear. Do not ever spray them at yourself or someone nearby. 
The high-pressure water jets have been known in some cases as being capable of causing severe injuries which are anything but big boys' toys, so always use caution when operating these machines.
Best Wet and Dry Vacuums in NZ
The Best Water Blaster NZ
1. Karcher K5 Premium Water Blaster
The K5 is a premium water blaster with a telescopic handle and adjustable pressure for optimum cleaning results. The high-pressure hose is 10 m long and the spray gun comes with an LED display on the trigger gun.
It has an ergonomic design for comfortable use, even in difficult-to-reach areas like under sinks or behind kitchen units. Its pressure can reach up to 2100 PSI and 8 L/P Flow rate.
2. Karcher K3 Full Control Water Blaster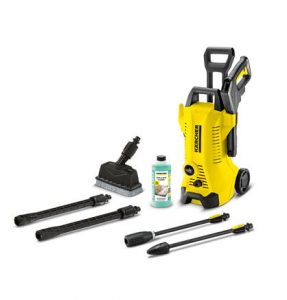 The Karcher K3 Full Control is a powerful and versatile water blaster that will help you get your garden clean, whatever the weather. With its extendable handle, rotating point jet nozzle and high-pressure hose, it gives you total control of where you want to spray.
It has high performance with high pressure of 1950 PSI and a flow rate of 6.3 l/min. The built-in backlit display allows you to easily monitor all settings with just one glance. 
3. Flash Mx2800 Water Blaster Electric
The FLASH MX2800 is a powerful electric pressure washer that will help you get the job done quickly. The water blaster has 5 spray nozzle attachments included with it to allow you to clean just about anything. 
This electric pressure washer has a built-in detergent tank so you can add soap or degreaser directly to the unit without having to carry separate containers around. There is an integrated hose reel so you can easily store it when not in use. The working pressure of this model is 1885psi and the max flow is 8.7L/min.
4. Karcher K4 Premium Water Blaster
The Karcher K4 Premium is the ultimate cleaning machine. It combines the power of a water pressure cleaner. Its telescopic handle can be adjusted to suit your height, and its unique Vario Power Jet nozzle provides maximum cleaning performance in every situation, whether you're cleaning carpets or hard floors. 
It has a high pressure of 1900 PSI and a flow rate of 7 L/min, allowing you to clean your house, lawn or patio without any problems. The K4 Premium features a 9 m long hose, making it perfect for cleaning large areas.
5. Certa 2000W Pressure Washer
The Certa Water Blaster is a great option for any household for cleaning and spraying. The blaster has a high water pressure of 2200PSI max pressure and the flow rate is 6l/min.
It has an easy-to-use handle with a trigger that helps you to control the amount of water that will come out and it also comes with a  hose that makes it easier to connect to your tap or any other source of water around your house.
6. Karcher K7 Premium Water Blaster
The Karcher K7 Premium is a powerful and great water blaster with innovative technology. The 3-in-1 Multi Jet spray lance can be used as a jet, needle and foam spray. It has the highest pressure (max. 2600 PSI) of all blasters in its class, yet it is comparatively quiet. 
It has a high-pressure hose with 10 m reach and makes cleaning difficult areas easy with a 6.3l/m Flow rate. The integrated water filter protects your pump from dirt particles and prolongs its lifetime. Its ergonomic handle makes it easy to control the lance when using the trigger gun or trigger gun with a pistol grip.
7. Hyundai 4200 Water Blaster Petrol
The Hyundai 4200 PSI  Water Blaster is a high-pressure water pump that has been designed to produce a powerful spray of water, making it the perfect tool for cleaning driveways, patios and decks. This unit features a powder-coated steel frame and 12inch PU foam tires. The 5 different spray nozzles allow you to choose the right amount of pressure for your job.
Its 15hp engine ensures maximum power and performance, while a heavy-duty powder-coated steel frame ensures durability. It has a high-pressure 9 mt. hose and engine with 420cc.
8. Karcher G3200X Water Blaster Petrol
This Karcher Petrol Pressure Washer is a powerful and versatile machine that can be used for all kinds of cleaning jobs. It comes with an onboard storage compartment for the accessories, so you always have them close at hand. The no-flat tires ensure a smooth ride and easy manoeuvrability, while the KXS 196cc 4-stroke motor delivers plenty of power to do even heavy-duty work with ease.
This unit has a 9.8 L/min flow rate which makes it suitable to clean large surfaces quickly. It also has a max pressure of 3200 PSI hence you can use it for various purposes such as cleaning, washing or even watering your garden. 
9.
Karcher G3400XH Water Blaster 

This Karcher G3400XH is a portable design with, robust welded steel chassis with a foldable frame. This machine is powered by a Honda 190cc, 4-stroke petrol engine.
It has 12" No-Flat All-Terrain tires that deliver superior traction on any terrain. With a maximum pressure of 3400PSI and flow rate of 10L/min, you can rest assured that your cleaning tasks will be completed quickly and efficiently.
10. Deal Mart Petrol Water Blaster
The Deal Mart 196cc Petrol Water Blaster is a compact, affordable, and reliable water blaster. It features a 10-meter hose for easy movement around the lawn or garden.
The 4-stroke engine provides up to 8L per minute of water flow. The Deal Mart Petrol Water Blaster 2200 PPSI can be used for cleaning driveways, patios, decks, and even cars.