The beach is the perfect place to spend your summer days. The warm sun and beautiful scenery keep people coming back. But, what if you want to spend your days lounging by the shore, but also want to protect yourself from the sun or even the weather? If you want your beach days to be worry-free and enjoyable, you need to invest in a beach tent to protect you. 
Beach tents are specifically designed to shield you from the elements while you are on the beach.  The best beach tent will give you comfortable seating with a full canopy that covers your head and body while remaining lightweight and easy to carry around.
This post will teach you all about beach tents, what you should look for, and the best beach tents currently available on the market.
What to look for in the Best Beach Tent?
Beach tents are available in a large variety of styles and colours. Choosing the right beach tent will depend on your personal preferences but here are some things to keep in mind when shopping for the best beach tent:
Size: The size of your tent will determine how much space you have to move around and how many people can fit inside. If you are looking for a dome beach tent, the average size is about 6 feet wide and 7 feet tall. On the other hand, if you need a large beach canopy, it can measure 8 feet wide and 11 feet tall.
Portability: The best beach tents are lightweight and easy to carry around. Most average beach tents are light enough to carry with one hand making them perfect to bring on a trip or even just down the street.
Stability: The best beach tents will be made of lightweight, high-quality materials that are resistant to the elements. This will keep the tent stable in high winds and protect you from the sun.
UV protection: The best beach tents will protect you from the sun. Look for a beach tent with a UV-resistant top that will block out the sun's harmful rays.
Material: Beach tents are available in many different materials. Depending on your needs, the best beach tent will be made with a high-quality canvas that is tear-resistant, waterproof, and durable.
Carry bag: The best beach tents should include a bag that makes transportation easy. A carrying bag makes it easy to take your beach tent camping, on vacation, or even just down to the pool.
Now that you know what to look for, it is time to find the top-rated beach tents currently available on the NZ market.
The Best Beach Tents in NZ
1. Picnic Time Blue Brolly Tent
The Picnic Time Blue Brolly Tent provides a lightweight polyester shell and fibreglass 'wire' frame which makes the tent extremely durable. The plastic stakes that come with it make the tent easy to set up. It comes with a convenient carry bag with a shoulder strap for easy transport from place to place.
2. Komodo UV50+ Beach Tent
The Komodo UV50+ Beach Shade Tent is perfect for beachgoers who want to enjoy the sun. This tent features a UPF 50+ rating, water-resistant polyester canvas fabric, and strong aluminium poles. The multiple set-up options allow for the high or low sun as well as having a zippered pocket. It creates a comfortable and safe space for you to stay under the sun.
3. Explore Planet Earth Pop-Up Tent
The Explore Planet Earth Speedy Pop-Up Sun Shelter is great for camping, beach trips and picnics. This tent includes a sun protection panel that allows for extra sun protection. It is also made from UV50+ materials which are more effective than regular tungsten lighting in protecting against the sun's harmful rays. Plus, it comes with pegs which make it much more stable than other tents of this size.
4. Mountview Pop-Up Beach Tent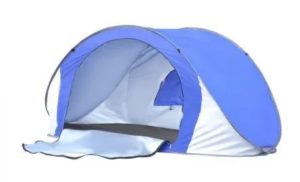 Mountview Pop-Up Tent for 2-3 people is a great layer to wear before you go out in the sun or lay out on the beach. The tent has anti-UV silver coated fabric which helps with the protection of your skin and it's made up of an interwoven mesh material so it has more breathability and can protect you from the breeze. This tent also comes with a carrying case, making it easy to carry when you are going camping, hiking or just taking a walk in the woods.
5. Caribee Rapid Beach Tent
The Caribee Rapid Beach Sun Shelter has superior UPF 50+ protection from harmful sun rays and boasts an easy-to-use pop-up design that can fold down into a small storage bag with a few simple twists. It's also integrated with sandbags and guy ropes, pegs to keep the tent in place, a rear window that allows for gentle breezes, and internal pockets for storing items and snacks.
We hope you enjoyed our article about finding the best beach tent! If you are looking for a way to keep the sand out of your tent, protect yourself from the sun, and remain cool while you sleep, then this article is just for you. There are a lot of things to consider when looking for beach tents including size, weight, and material as well as value for the price. We hope that the tips we have provided help you find the perfect beach tent for your needs.