A Front Loader washing machine is one of the most important investments you can make so choose wisely today and your clothes will be in good hands for years to come.

One of the most important decisions when purchasing a new washing machine is whether to buy a top loading or front loading. Front-loaders are more energy-efficient, and they tend to be quieter than top loaders.
The drum of the front loader is designed to be more circular than other washers so it can hold more clothes. This means you will do fewer loads and save time on laundry day.
With technologies, washing machines have many features such as being able to control water levels, a delayed start timer, or even spin speed, etc, but there are many different brands, styles, features, and prices that you should consider before making your decision to buy the best washing machine.
If you are looking for the value of money Front Loader then Click Here
4 Best Washer Dryer Combo in NZ
7 Best Top Loader Washing Machines in NZ
How to choose the best washing machine in NZ
The decision to buy a new washing machine is often tricky. There are so many brands, models, and features available in the market that it is difficult to know which one will suit your needs best.
In order to make the right choice, you need to consider what you use your washing machine for most, how much space you have in your home, and how much money you want to spend. Luckily, we've done all of the research for you! We've made a list of five great front-loader washing machines you can buy.
What features should you look at before buying a washing machine?
1. Washing Modes
It is important to know what washing modes you need the most. A front loader washing machine can have many different washing modes to help you wash your different types of laundry.
Some machines will offer special settings that are designed specifically with the type of fabric such as wool or silk. Others might come equipped with a hand-wash setting, where delicate clothes need extra care.
2. Spin Speed
Front loader washing machines have a spin speed that tells you how fast the drum can rotate in a cycle per minute. The faster it rotates, the more water will be removed from your clothes when they are done spinning which means clothes are dry and ready.
When comparing front loaders with different speeds make sure to look for 1,200 rpm or higher because these machines dry better than those with slower speeds.
If you're installing a front loader washing machine, it's important to make sure the appliance is level and stable. If not, they can rattle around or shake excessively and create other problems in your home like noise pollution that will eventually get annoying for everyone living there as well.

3. Drum size
The drum size on a front loading machine is one of the factors that determine how much laundry you can wash at once. It helps to know what kind of load capacity your washer has. Generally, 7kg is enough to drum size if it's just for households and small to medium size families. but if you have a big family or want to wash king-size linen and blankets then you may need to consider 8 or 10kg capacity of drum size.
4. Energy consumption
Front loader washing machines use less water and energy than top loaders, which means that they will cost you less to run.

Making sure your Front loader is both water and energy-efficient can have a major impact on not only monthly electricity bills but also monthly water bills. There is an energy and water star rating label on the machine; the higher the star rating is more energy and water-efficient.
5. Noise
If your front loader is located near the bedrooms or other parts of your house or apartment, you may always hear its distinctive rumbling sounds when it starts up – these could disturb the sleep of your family members. So, in this case, you can look for some such machine that makes less noise.
The Best Front Loader Washing Machine NZ
1. Kogan Series 9 Front Load Washing Machine
The Kogan Series 9 Front Load Inverter Washing Machine is a great Front Load Washing Machine that comes with a range of features that enable you to undertake a variety of wash cycles. The machine has 16 wash programs and can be set up to 24 hours in advance. 
There are two different sizes(8Kg and 9Kg) available, which allow you to find the right one for your family's needs. The design of the washing machine provides greater protection against leaks and spills. It is also possible for children to use this machine without any risk of injury as it has child-lock features as well as anti-flooding devices.
It has also been able to provide a way of reducing water consumption by using the fuzzy logic control feature of weighing the clothes that are being washed for the perfect setting for each individual program. 
Pros :
Easy to use

Less noisy

Child safety lock 

Energy efficient 
Cons:
Some Cycles take a longer time
2. Samsung 8.5kg Front Load Washer
This white colour Samsung 8.5 kilogram quick drive front load washing machine has arrived  and it's full of new technology.  This front loader features 1400 Rpm Spin Speed  and has Digital Inverter Motor. 
The designers at Samsung have engineered this machine to wash your clothes up to 50 percent faster with  full clean performance. It has quick drive technology that powers through a  SuperSpeed cycle in just 39 minutes for  loads up to 5 kilos.
It works independently rotating the unique main drum and back plate giving your clothes  a gentle wash with double the amount of  action in up to half the normal washing  time. It is  simple and so effective and for last-minute additions into the wash cycle. 
You can use the add wash door. You  just simply push one button, open the add  wash door and then put your items inside.   After the cycles have begun you can do all of  this without draining the drum. This washing machine works gently on fabrics and harsh on stains.
This modern washer is very smart and very water efficient . The steam wash cycle reduces up to  99.9% of most common bacteria giving you  a peace of mind every time. It comes with bubble wash technology.
Pros:
Easy to use

4.5 Water & Energy rating

Add Wash option

SmartThings Support
Cons:
3. Fisher & Paykel 10kg Front Loader – WH1060S1
Fisher & Paykel 10kg Front Loader Washing Machine is a game-changer. With its large capacity and a wide variety of cycles, it can tackle any type of laundry you put at it.  It comes with SmartDrive Technology that helps to ensure gentle garment care for all your items while the Vortex Wash ensures an even mix with every wash cycle. 
It is the most convenient and easy to use the washing machine in its class. With a simple touch or turn of the dial, you can choose between delicate, heavy-duty laundry cycles for your desired load size.
It includes spin speeds from 500 rpm all the way up to 1400rpm. Plus with features like delayed start timer and water level sensor so that it could be as energy efficient as possible while still giving clothes enough time for proper rinsing. 
 This washer features active intelligence technology; it allows the washer to sense both the size and the soil level of the load.  It automatically then dispenses the right amount of detergent to suit each load and will determine the wash time required so you just pop the clothes in, select the cycle and the washer does the rest.
 It has a fabulous time and water-saving feature. There are 14 fabric care cycles including quick sports delicates and allergy so you'll easily find a  cycle to suit each load and there are some clever washing hints for you so you'll get all the help you need. 
With the Add a Garment function you can pause your wash cycle to add or remove items before continuing. After just one light load, use Steam Refresh for de-wrinkling and refreshing without needing a full wash!
Pros:
Easy to use

Wool mark certified

Steam refresh

4.5 water and Energy rating

 Smart quick wash 
Cons :
4. Haier 8.5kg Front Loader
This Haier 8.5kg Front Load Washing Machine is perfect for anyone who wants to get their clothes clean with no fuss and minimum noise. The Wave Drum design gently washes your clothes, making sure that they are completely soiled free even during the maximum 1400rpm spin speed of this Inverter Motor Technology washing machine's wash cycle. 
It is a great choice for anyone looking to clean up their laundry with high-tech features and innovative design.  It has electronic buttons, an LED display screen, and has the ability to delay your wash by 24 hours using the automatic timer function. 
This front loader features the door lock.  It also comes equipped with Express 15 cycles which will give small loads their own super quick wash cycle in just 15 minutes. This front loader Washing Machine ensures an easy wash with its Antibacterial Treated door seal that fights off germs and odors. 
Once you get home from an exhausting day, put your clothes in the Washing Machine and let it do all of the work. It has 16 different programs to choose from with customizable settings for each wash type.  You just pick a setting that matches what's dirty or clean clothing needs, then sit back and relax while this fantastic washer does everything else for you.
Pros:
Easy to operate 

Variable temperature and speed option

water/energy efficient 
Cons:
5. Hoover 7kg Front Loader
The Hoover 7kg front load washer is a marvel of technology. The electronic programme control knob and digital display make it easy to wash clothes, giving you the freedom to set your preferred cycle time with just one touch.
The sleek design makes this machine look great and perfect. With all these features packed into such a compact space, washing laundry has never been easier. 
This Front Load Washing Machine has 12  washing cycles, including a quick wash option so you don't have to wait around forever before your clothes are clean and ready to wear again.
You can do one-touch laundry with a Hoover 7kg Front Load Washer. It has One-Touch technology that makes the washer easy to use and compatible with Android Soft Touch Control system.
It offers a water protection system with Anti Overflow and Foam-Control, as well as an Electronic Balance Control. This is especially helpful for those who have children or pets in the house that could contribute to making messes around the washer from time to time.
Pros : 
3 Quick wash option

Overflow Water Protection

Energy Efficient 
Cons:
6. Westinghouse 7kg Front Loader DXOC 27/1-AUS
The Westinghouse  7kg front load washing machine has long been one of our favourites because it comes with all kinds of features that make the product more efficient and reliable. Its advanced programming like faster cleaning helps to do multiple washes, EZI set controls help guarantee superior cleaner clothes without any trouble at all. 
This washing machine has a quick wash option, which allows you to clean your clothes in less than an hour. It also has an auto water level sensing feature that helps you to adjust the proper amount of water needed for the right type of cycle and load size.
This front loader is a great choice for the family. It has a large 7kg drum and features like child lock, time remaining, fault diagnostic display and door lock indicator that makes it easy to use. It also has a pause and adds button, so if you want to add more clothes while doing laundry, just press pause and add the button again. 
It provides all the benefits of top-load washers with the added convenience of front-loading design.
Pros:
Auto water level sensing

Add Garment option

Delay end option
Cons:
No short-wash options for Medium load
7. Panasonic 8.5kg Front Loader – NA-V85FB1WA2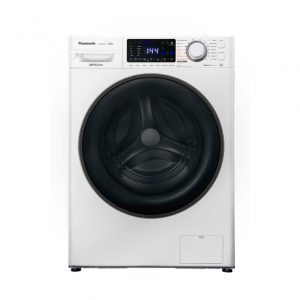 The Panasonic 8.5kg Front Load Washing Machine with ActiveFoam technology provides the ultimate in washing performance.
The new generation of Panasonic's front loading washers offer an innovative technology called "Active Foaming Technology," or AFT™. it creates fine, high-density foam before the wash cycle starts to maximize washing performance for cleaner results. The result is a combination of superior cleaning power and gentleness on your clothes. With a choice of quick wash cycles, you can easily do your laundry routine to fit your lifestyle. With its large 8kg drum capacity, this washer can handle even the largest loads. 
The Panasonic 8.5kg Front Load Washing Machine is a high-tech washer that not only cleans your clothes but also rinses them at an unusually fast speed to wash away the detergent residue and other gunk from fabric surfaces, and also prevents foul smell and mould buildup. 
Pros : 
Hygiene washing cycle

Quiet 

3D Wash Sensor
Cons :
No, Customize washing cycle
8. Midea 7.5KG Front Loader – MFC75-S1403
This Midea Front Loader Washing Machine is designed for the family with a large capacity of 7.5kg, which can save your time and energy for washing clothes every day. 
It has an advanced Prewash function that can get an extra wash before the main wash. it is suitable for washing when the dust rises to the surface of the clothes. The machine also provides you with 9 different programs and 4 water level settings, so you are able to select a suitable one according to your needs. 
This white colour brand new front loader is a good product for your home and family. This washing machine features 16 programs including prewash, cotton cycle, quick wash and heavy-duty cycle to meet various laundry needs.
It also has 1400 RPM spin speed to extract water thoroughly from clothes for efficient drying. The LED display allows you to monitor the progress of each program. 
Pros:
Easy to use

Prewash

15 min Quick wash 
Cons:
9. Midea 7.5KG Front Load
The Midea front loader washing machine features a 7.5kg drum capacity and 1400 RPM spin speed, perfect for cleaning clothing in a quick and efficient manner. 
It features 15 programs including the energy-saving ECO mode available to suit your laundry requirements. while the LED display allows you to monitor cycle progress at all times. 
The Drum Clean function helps remove stubborn stains from your washer's drum, ensuring that your clothes come out clean every time.
This Washing Machine is the best washing machine for a small-medium family, which adopts 90oC high-temperature sterilization in its self-clean cycle to create healthier washing progress. 
This advanced technology washing machine is designed to clean all kinds of clothes easily with only one wash cycle, saving your time and energy.
Pros:
Self-clean cycle

Variable temperature option

Daily Wash 45′
Cons:
More Interesting Stuff you like to See :